In today's technology-saturated world, it's very helpful to know some stuff about tech even if you're not yourself a technologist. However, I'm very aware that good explanations of tech for non-tech people are few and far between. So, in this post, I'll give some simple explanations of some of the most common tech things you might want to know.
The Structure of the internet
If you're reading this, I'm going to presume you use the internet, and I'm also going to presume you know that it's primarily composed of web pages. You probably don't know, however, how exactly those pages are constructed.
Fortunately for you, it's surprisingly simple. There are three main components to a web page: HTML, CSS, and a big bucket of other Miscellaneous Things. HTML and CSS are what are called "markup languages". They create the structure and style of a page, but for the most part they don't do anything. Miscellaneous Things, which include SQL and JavaScript, are "programming languages": they actually do stuff, like perform actions and make decisions.
Think of markup languages like a static piece of text, and think of programming languages like a button.
Now let's add some more detail about all of those components, starting with HTML. HTML stands for HyperText Markup Language. (The markup language bit you already understand, and I'll get to the hypertext bit in a moment.) Essentially, HTML creates the framework for a webpage, by itself, with no stylization (color, layout, etc). Now, when you think of "framework", it can be tempting to think of a wireframe: 
But this isn't what I mean. See, though there are no images or color, there is still style, because there is still layout. There are distinct sections. The spots to put images are different sizes. Text is organized in columns. HTML, by itself, contains none of these. HTML, by itself, looks like this.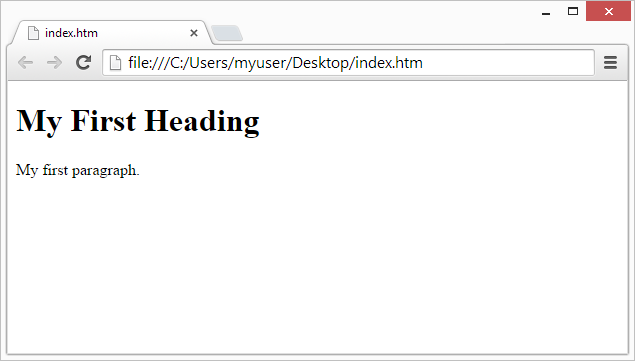 Kinda boring, eh?
Text is organized in a single column. It may be bigger and bold if it's a heading, but that's the browser's default style; technically, HTML doesn't do that, your browser does. If you display pure HTML, you get a single left-justified column of black text with images and links on a white background. (The presence of links, by the way, is the definition of hypertext. Remember I said I'd get to that? It really is that simple: "link" stands for "hyperlink" which is another word for hypertext.) Overall, it's really uninteresting to look at.
This is where CSS comes in. CSS stands for Cascading Style Sheets, and it's that middle word we care about: Style. Essentially, CSS creates the colors, fonts, layouts, and almost everything in a website that you care about. The fact that the text you are reading now exists at all is because of HTML, but the fact that the text uses the font Merriweather is because of CSS.
All HTML is supposed to do is tell the computer what stuff is: what part of the webpage is a heading, or body text, or an image, etc. CSS is the thing that makes all of that visually interesting: for example, it tells the computer that the headings should be blue, the body text should use a serif font, and the images should be on the right-hand side.
CSS is actually the reason that wireframes exist. You don't program a wireframe, you draw it, and the reason is that wireframes don't exist for the benefit of computers. Wireframes are planning tools that exist for the benefit of humans. Computers already have something to tell them how a webpage should be structured without CSS: it's called HTML. But a human needs a picture to know that, because humans think in pictures, not code.
You now understand a good third or so of how the internet works. HTML creates the website structure by telling the computer what stuff is. CSS styles that structure into something aesthetically pleasing to humans. Before we move on, let's dip our toes into the Miscellaneous Things bucket, otherwise known as programming languages.
You already know the most important thing about programming languages: they do stuff. And essentially, they do two things: they perform actions, and they make decisions. (Frequently they do both.) An example of an action is changing the color of an icon. An example of a decision is figuring out which browser the user is viewing the page on. An example of doing both is changing the color of an icon depending on the user's browser.
The above examples can be done with JavaScript, which is probably the most popular programming language used on the web. JavaScript is also frequently used in the creation of navigation menus, login forms, and various site-enhancing animations.
As a side note, it's important to make the distinction between the actual, visible piece of the webpage—the buttons, links, input fields, etc.—which are created using HTML and CSS like any other visible website piece, and the decisions and actions that are attached to those visible website pieces—the action to be taken when the button is clicked, when the link is hovered over, when the input field is typed into, etc.—which are created using JavaScript. These are separate components of the webpage.
Here's another, slightly more complicated programming language that's frequently attached to websites: SQL (pronounced "sequel"). SQL stands for Structured Query Language, and yet again, the middle word is important: Query. Essentially, a query is a request for information. Here's an example. When you log in to a website, you type your login information into the input fields and hit the submit button. When you do that, the server (the electronic place where your data is stored) is asked by the webpage for the login data. The answer to that question is fetched by SQL.
Fetched from where? Well, on the server, the place where the data is stored is called a database. The database is built, managed, and queried with SQL. When a new user creates an account, their login information is stored in the database, and whenever they log in again, the information they typed into the input fields is checked against the data stored in the database. All of this happens with SQL.
Everything we've talked about on the web so far—HTML, CSS, Javascript—happens "client side", aka, on the user's browser. SQL, by contrast, happens "server side", aka, on the server where the website data is located. Client side processing happens where it does because the experience is different for each user, depending on the size of their browser window, what type of browser they're using, etc. Server side processing happens where it does because the data is collected from a huge number of different users, so it makes the most sense for the resulting gigantic amount of data to be stored in one centralized location.
Here is the major takeaway: Computers think dramatically differently than humans. HTML is the basic structure of a webpage from a computer's point of view. A wireframe is the basic structure of a webpage from a human's point of view. People who program computers need a foot in both doors: obviously, they think like humans, but they also need to understand how to think like a computer. Computers don't speak English, computers speak code, and if you want a computer to do what you want, you had better be able to talk to it in its native tongue.
Search Engine Optimization
Now that you generally know how the web is structured, let's talk about a surprisingly little-understood but incredibly crucial aspect: search engine optimization, or SEO.
If you're reading this, I'm going to presume you know what a search engine is. What you probably don't know, though, is how exactly search engines decide what results go first. When you search for something on Google, you see results in a certain order, but what algorithm generates that order?
The answer is constantly changing for two reasons. First, as soon as companies figure out what the criteria are for higher search result placement, they capitalize on it like crazy, because higher search result placement leads to more customers. (The process of doing this is SEO.) Second, it's in Google's best interests for its algorithm to promote the kinds of search results that people actually want to see. If Google's customers' criteria for what makes a good search result is different from the kinds of results Google's algorithm actually generates, the results are skewed in a direction that isn't beneficial to the customers, and they get mad.
So ideally, if Google makes a good algorithm, the companies will actively try to make their websites better in order to get higher search result placement.
As a side note before I get into the rest of this, one thing a lot of non-techie people don't realize is that when they search something, there are some results—typically the top ones—that are paid ads. People have paid a certain amount of money to have their product/service shown whenever that keyword is searched. Frequently these are labeled "AD", but frequently this label is inconspicuous or otherwise difficult to see. In this section, I'm talking about "organic" or "free" top results, not results that are at the top because somebody paid for them to be there.
I don't know the whole of the algorithm Google uses, since it's obviously a closely-guarded secret, but here are some of the well-known portions of it that are commonly used by companies for SEO.
Improving page load time. Visitors to a site really hate having to wait a long time for a page to load, so search engines put websites that load quickly higher in their rankings.
Having other websites linking to yours. This was a much bigger thing ten years ago, but it's still a part of the algorithm. Essentially, if a good number of other websites link to yours, then the people posting on those other sites probably think your content/product is good, so search engines put your website a little higher. The reason this is a smaller component of the search engine algorithm is it's really easy to cheat. Back when this was a larger portion of the algorithm, companies would create a ton of small sites that linked liberally to their main site.
Visitors click on your page, stay on your page longer, and/or visit other pages on your site. If you can get, and more importantly keep, your visitors, your page is probably giving them what they want. The ranking in search engines for these things is as follows:

The user clicks on the page, spends a decent amount of time there, and proceeds to navigate around on the rest of the site.
The user clicks the page and spends a decent amount of time there.
The user doesn't click the page.
The user clicks the page, but clicks away almost immediately.
That last one might seem strange. Shouldn't those last two be in the opposite order? No, and here's why. If the user doesn't click the page at all, they may think "no, that's not what I want", or they may have just not noticed it. By contrast, if the user clicks the page and then immediately clicks back, the search engine can be reasonably sure that the user thought "no, that's not what I want". The difference is between a pretty certain "no", and a merely possible "no", hence the ranking.
The page uses words/phrases contained in the user's search. In the 00s, this actually used to be almost the only method of SEO. The reason this changed was that, like my second point above, it is very easy to cheat. Companies would create a ton of webpages on their site that came very close to spamming a particular keyword, while still looking enough like a genuine article to fool a search engine. (Some of the first paid work I ever did was working freelance writing articles like these; I remember writing 500-word articles on black mesh, swimming goggles, and other miscellaneous junk.) However, due to its importance in determining a good search result given how search engines fundamentally work, this remains a pretty large portion of modern SEO. They've gotten around companies doing the 00s-SEO by making "stuffing", or the overuse of keywords, a penalized practice.
Search engines can move easily through the pages to find what they need. This one is kind of blatant self-interest on behalf of the search engines, but it still makes a lot of sense. Search engines have a ridiculous amount of internet to "crawl" through (that is the technical term, I'm not kidding), and they want to show their users their search results as quickly as technologically possible, so they prioritize pages that are easy for search engines to find information in.
The site works well on mobile. Nowadays, a lot of people view webpages on their mobile phones, not just on desktop. However, mobile-enabling a website is hard (trust me, I know). So, to incentivize developers to do it, search engines give heavy penalties to sites that don't have good and usable mobile versions.
These are just some of the most crucial and important ones off the top of my head, but there are a huge number of other factors. For further reading, see this insightful SEO Periodic Table.
---
That's all for right now! I will probably update this list whenever I find another tech thing that somebody doesn't understand. If there's a tech thing that you've been hearing about but don't get, absolutely post it in the comments: I'd love to hear from you and update this post accordingly.